A script to add links to Wikidata on Twitter
This week, Egon Willighagen had the idea of a script to add a Wikidata icon on Twitter accounts that have a matching Wikidata item. I made it, to be able to:
quickly get information on Twitter about a topic, a person or an organization that you don't know,
improve Wikidata content by adding Twitter usernames which are missing.
Even if it's still at an early stage, it's usable, and looks like this: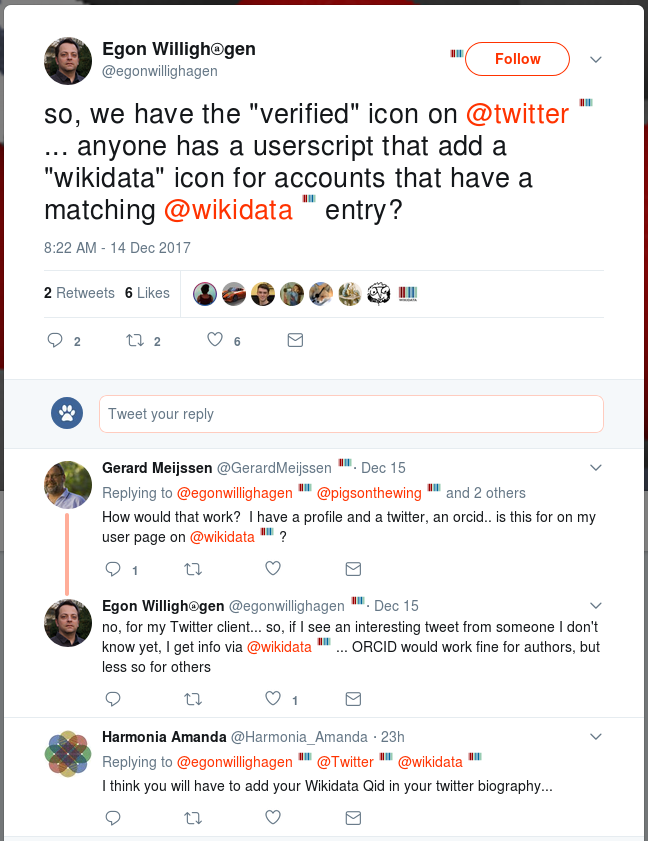 You can hover over a Wikidata icon to display the Qid and click on it to go to the matching Wikidata item.
Installation
Install Greasemonkey, Tampermonkey, or Violentmonkey add-on on your web browser (for example Mozilla Firefox, or any other that supports one of these add-ons).
Install (or update) the script by clicking on this link: TwitterToWiki.user.js.
Go to Twitter. A Wikidata icon will be added next to each Twitter username if there is a matching Wikidata item.
Troubleshooting
The script was tested only with Tampermonkey on Mozilla Firefox.
Please send me a tweet if you discover any issue.
Known bugs
In some cases (profile cards and small conversations), the icon will not be added.
Possible enhancements
Handle #hashtags.
Improve the matching to Wikidata items, as it uses the Twitter username in a case-sensitive manner and so sometimes doesn't work.
Add a Wikipedia icon.